Not even Oprah is immune to the charms of "American Idol" runner-up Adam Lambert. The singer will talk about his upcoming album (and its attention-getting cover art) on Thursday's episode, which is all about the biggest stars of reality TV. Lambert will be joined by America's Best Dance Crew, "Project Runway" alumnus Christian Siriano, Randy Jackson and even cake bakers. Tune in for show updates!
4:36 p.m. — Adam Lambert time! Wow — he's only appearing via Skype. Adam can't make it to Chicago to talk to Oprah? He says he's still finishing up his album. He says being discovered is a thing of the past, which is why he auditioned for "Idol," to build a base. He talks about being a chorus boy in "Wicked" — and how he's a "rock star"! And his segment ends, with an introduction for Randy Jackson. Jackson says he was a little shocked Adam didn't win. Adam says he had no idea what was going to happen, and that it didn't matter at the end of the day, because he got what he wanted: an album.
4:43 p.m. — Jackson talks about all the changes, and Oprah says she's excited about Ellen Degeneres starting as a judge for season nine next year. But that's for another episode. Jackson starts to pimp his "night job" show, "America's Best Dance Crew." He says the idea for the show came from watching the International Hip Hop competition. Season four winners "We Are Heroes" perform; the all-girl crew perform a superhero-themed show in shiny spandex and with mini-torches. Ha — they are literally breathless when Oprah tries to talk to them. Not because they're in awe, but because their routine knocked the breath out of them.
Download
Time for Miracles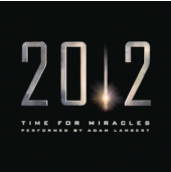 Now!