The guyliner god is getting ready to release his debut album next month, but first he must go to bed with the press to help promote all things Adam Lambert. Just mentioning his names gets people Fired Up and excited to see what the ex Idol will do to the music world. With publications fighting to get the first big interview with the star, Details Magazine won the battle. The American Idol runner up spoke to Details about getting bras thrown at him while performing, his Idol fans, and the release of his new album.
Step One for Adam Lambert was to go on American Idol and wake up the world. Never had we seen such a performer with such passion and charisma on stage. Immediately, fans fell in love with his versatility. One week The Rocker would come out looking all ripped up and sloppy just to turn around the next week to wear a tailored suit with slicked back hair. As soon as you thought you could peg Lambert, he did the complete opposite, making him not only a style maven but also one of 2009's hottest sex symbols.
As many fans wait in anticipation for the new album, the only thing we can hold on to his is Idol past performances that made us love Adam Lambert. Those stimulating, music changing acts will have to fill the lull until Lambert's new CD comes out. In an all new exclusive interview with Details Magazine, Adam Lambert opens up about his performance style and his new role as a sex symbol. The American Idol runner-up said, "It's all fantasy -- that's what entertainment is. I'm here to entertain you, and if my sexuality is apparent and you respond to it, and you're attracted to it, then great, I'm doing my job. It ain't happening anyway!"
The cool confidence that exudes from Lambert has driven women to the point of throwing their under garments on stage while he does his thing. It happened at most of the spots on the American Idol tour, the calm crowd would erupt in madness when Lambert hit the stage. In the new interview Lambert addresses this by saying, A lot of times I'll pick up a bra and play with it during a song. It's a way to connect. I t's like, 'I threw my bra up onstage and you're spinning it around. Cool. Yay." Stay posted for more Adam Lambert news and make sure you pick up his new album when it hit stores later next month.
Download
Time for Miracles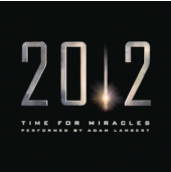 Now!