Adam Lambert is once again taking to Twitter to reveal details about his Nov. 23 debut album, "For Your Entertainment."
On Wednesday afternoon (Oct. 28), the "American Idol" singer told fans that his debut single will be the album's title track, which was produced by Lukasz "Dr. Luke" Gottwald (Britney Spears, Katy Perry).
In addition, Lambert shared news about collaborating with two well-known U.K. rock acts. "There is also a song called 'Soaked' written by Muse!" Lambert Tweeted. "Also a tune called "Music Again" written by Justin Hawkins of the Darkness!"
The singer also revealed that he wrote four songs on "For Your Entertainment: "Strut," "Aftermath," "Broken Open" and an exclusive iTunes track entitled "Down the Rabbit Hole."
Just yesterday (Oct. 27), Lambert unveiled the album cover for "For Your Entertainment," which boasts a decidedly glam, '80s-inspired aesthetic and represents a big departure from "Idol" covers past. In the Warwick Saint-photographed close-up, Lambert sports dramatic eyeliner and cobalt-blue hair and poses in front of a celestial backdrop, with one fingerless-gloved hand pressed to his cheek.
The cover immediately drew mixed reactions from fans, but Lambert spoke up in defense of the heavily airbrushed image.
"Thank you to those who appreciate and understand that the album cover is deliberately campy," Lambert wrote. "It's an homage to the past. It IS ridiculous.
"For those that don't get it: oh well...Glad to have gotten your attention," added Lambert. "androgyny. Rock n Roll."
Order "For Your Entertainment" Now! from:
iTunes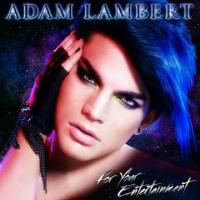 or Amazon