American Idol runner-up walks through apocalyptic '2012' scenes, singing of lost love.
While Adam Lambert is still in the studio completing his major-label debut, For Your Entertainment, out on November 23, his music video for "Time for Miracles" premiered on MySpace on Wednesday morning (October 21). The song, produced by Rob Cavallo, is for the apocalyptic flick "2012," which hits theaters on November 13.
In the video, Lambert dons his best Goth clothes and anguished face as he makes his way through disaster scene after disaster scene, as everyone else around flees falling buildings and debris raining down from a fiery sky. Despite the fact that the world is coming to an end around him, Lambert looks triumphantly straight into the camera and sings about not giving up on a lost love.
Scenes of Lambert mugging for the camera and belting out the midtempo power ballad are intercut with clips from the John Cusack film. Toward the end of the song, the "American Idol" runner-up begins to show off his signature range and turn up the volume as he stands on top of a building.
The track itself, which was written by Alain Johannes and the late Natasha Shneider, found its way online earlier this week after it was released in Europe. It became officially available for purchase on Amazon and iTunes in the U.S. on Wednesday.
(Hit the banners below and to the right)
Lambert told MTV News that Cavallo "pushed me to the limit" of his vocal range for "Time for Miracles, but he and his label have maintained that the power ballad is not representative of the songs on his album.
Download
Time for Miracles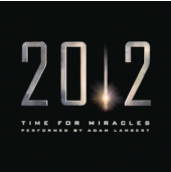 Now!