"American Idol" runner-up Adam Lambert is scheduled to perform at the American Music Awards on November 22 (the day before his debut release, "For Your Entertainment," hits stores). Thanks to a new report by People Magazine, it also looks like Lambert will be joined by several alumni from the former reality show.
Grammy-winner Carrie Underwood has signed on to perform at the awards, and she will be joined by Kelly Clarkson and Daughtry. According to AMA producer Larry Klein, "'American Idol' continually produces great talent, and we are looking forward to hosting Kelly, Carrie, Daughtry and Adam."
Also performing at the awards are Jay-Z, Alicia Keys, and The Black Eyed Peas. Who are the leaders in terms of nominations? Both Taylor Swift and the late Michael Jackson each have five.
Download
Time for Miracles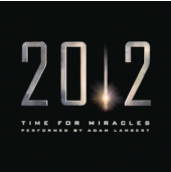 Now!