Adam Lambert has promised to give the first taste of his major-label debut album in the form of its first single next week. "The Single SHOULD be out next week...," he tweeted. "Sorry to keep you guys waiting!"
In addition to sharing info about his single, Adam also addressed "On With the Show", an album he recorded in 2005 before auditioning for "American Idol". He wrote, "Yeah this 'Take One' thing is basically 'On With the Show' re-tooled. Now this is ALL material recorded in '05 not written by me."
Adam Lambert will release his post-Idol effort "For Your Entertainment" on November 23. One day before the album arrives in stores, he will perform at 2009 American Music Awards along with Kelly Clarkson, Carrie Underwood, DAUGHTRY, Black Eyed Peas, Alicia Keys, Jay-Z and Jennifer Lopez.
On another news, Adam Lambert reportedly performed at a Halloween-themed private party in Boca Raton over the weekend. During the gig, he is rumored to don all-black costume with vampire fangs, and perform "Ring of Fire", "Black and White", "Mad World", "Born to Be Wild".
Download
Time for Miracles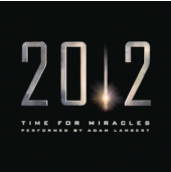 Now!