The singer's genre-busting major label debut, 'For Your Entertainment,' drops Nov. 23, and it just might make him an American idol all over again.
Kicking off another typical seven-day work week in the offices of his management company 19 Entertainment, Adam Lambert fixed his gaze on his own pretty face. Scattered across his publicist's desk were proof sheets from a photo session with the singer, who will release his debut album on RCA Records, "For Your Entertainment," Nov. 23. The shots captured Lambert in typical glam-god poses: peacock, street tough, space oddity, freaky adventurer in the boudoir of the damned.
Lambert, who in person is none of those things but rather a startlingly grounded 27-year-old radiating Southern Californian optimism, took up a red pencil and circled a frame. "This one needs a little fix here," he said, momentarily playing art director. It's all part of one big performance for Lambert as he works to resurrect rock in the new pop age.
But hold on. When such hyperbole is thrust at him -- by, say, an overly admiring pop critic who followed him closely during last year's "American Idol" contest, when he broke ground as the most successful Idol to be rock-oriented, androgynous and gay -- he lifts a ring-laden hand to brush it away.
"I want to put it out there that I don't take myself all that seriously," he said. That's one of his mantras. "The dress-up supports that; the fantasy element supports it. People want to talk about whether I have rock cred, whether I'm selling out, the theatricality, the gay stuff. . . . Chill out! And just enjoy yourself. It's not that deep."
Then he corrected himself, slightly. "Sometimes it is deep. Some of the songs on the album are," he admitted, pointing to the song "Soaked," a sweeping epic about the loneliness of one-night stands that's actually a cover of an unreleased track from Muse, and a very serious one at that. He also singled out "Broken Open," a ballad he co-wrote, which he said is about encouraging a lover to become vulnerable enough to cry.
"But sometimes it's just, 'This is hot, I feel good, this song makes me want to go get a drink and flirt with somebody and have a good time.' Good energy is just as credible as the cathartic, dark, heavy" stuff, he said. "It's just as important!"
This might be the most exciting message Lambert carries forward into one of the most intensely observed major label debuts in recent pop history. He's reminding America that rock music can be joyful, light-spirited and sublimely silly, just as pop can explore serious subjects beyond the call to hit the dance floor. And that a rock star might also like to dance.
Download
Time for Miracles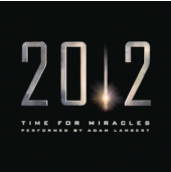 Now!