Adam Lambert and his boyfriend, Drake LaBry, may have recently called it quits, but that doesn't mean the singer is on the market.
"I'm so busy with all this stuff and with the record that I'm really just focused on the music right now," Lambert told us last night at TV Guide magazine's Hot List Party at the SLS Hotel.
Not that he doesn't enjoy having a good time. Lambert was spotted after the TV Guide bash hanging at Hollywood's Bardot nightclub. In addition to chatting with Samantha Ronson, I'm told he appeared quite cozy with "a blond model-like guy in his thirties."
OK, now we can talk about the music...
As I told you earlier today, Lambert's American Idol cohort Kris Allen insists there's no rivalry between the two. Lambert feels the same way.
"If anybody watched the show, they'll know that we're like apples and oranges," Lambert said. "That's part of the reason we got along so well. It felt like we were comrades in this competition and this experience. And I feel like we still are."
Lambert's CD, For Your Entertainment, is due out on Nov. 23, just days after Allen's self-titled debut.
Lambert still has to complete the video for his first single, "Time For Miracles," from the movie 2012. "It's going to be pretty sexy," he said. "Get ready."
Just how sexy?
"I'll be dressed," Lambert said, "but there will probably be some people that are pretty sexy—yeah!"
Download
Time for Miracles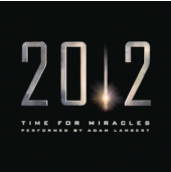 Now!