Adam Lambert tells Rolling Stone how whiskey and David Bowie influenced his debut album, For Your Entertainment. American Idol's first real rock star also opened up about working with Muse and writing one of the record's most tender ballads. Here's more from Jenny Eliscu's conversation with the man RS dubbed a glam-rock sex god during his fantastic Idol run:
Tell me about the process of making this record.
We did some recording on tour, not that much, though. What we ended up doing was conceptualizing on the road, and then just collecting as many demos and ideas as possible. Before the tour started, I did write for like a month. Over the course of the tour, we collected a lot of different music and found what resonated with us. The cool thing about the whole process was that we took a lot of the songs from demos and really developed them and tried to tailor them to the vibe that I was going for on the album, which was to blend old and new, to take classic rock-sounding track and say, "How can we modernize this, how can we give it an electronic edge?" I think it went pretty well.
Going into it, before you heard a single demo, what were the things you were certain you wanted it to be?
I wanted to do somehow not a classic and Eighties rock thing, the stuff I got credibility for on Idol. I wanted it to be dance, I wanted it to be pop, I wanted it to be international — these were our check boxes. I really wanted to do a new pop glam thing. I didn't want to create an album that was cohesive, because that's not my personally, I wanted something that was all over the map, because that's the kind of music I like to listen to, and I like to sing a lot of different styles of music, and there should be something different for every mood you're in.
Do you think your look will go through different phases?
I love dress-up, I love costume, I love make-up and all that shit, so I have a feeling that I'm going to tailor a look for each song. I kind of think that for the first single, "For Your Entertainment," we're going to go for more of an old Hollywood look, like 1930s style, but influences of Berlin, kind of dark, black and white, opium den, old glam? I want it to look like Valentino, old movie star, like black and white, pencil moustaches — that kind of vibe.
You've spent a lot of time absorbing lots of music. Do you have a large record collection?
Yeah, I'm a freak with iTunes, I'm constantly fucking buying music. I love listening to whatever's new and fresh, and I'll go back and explore. I went through a period of time where all I was listening to was stuff from the late Sixties, the whole flower power fuckin' psychedelic hippie-type music, like Jimi Hendrix, Janis Joplin, the Beatles. I remember at one point I was listening to a lot of disco. I love disco music, anyone who doesn't love disco, I don't know?
Every generation has some kind of music they have baggage about.
Yeah. I love dance music, I've always loved dance music. I think anything with a good beat that makes you feel like getting ready for the evening, going to work, in the gym, it's inspiring, it makes you feel good. It makes you move and it makes you want to feel sexy and flirt with somebody and have a drink. There's a lot of that on the record, because I love that.
What was it like working with Lady Gaga? She brought you a demo from a few years ago?
We just talked about the direction of which way it would go, and she said, "I really want to make more current than the demo is, and dance it up, make it a little more disco-y, and I was like, "Yeah, let's do it." I think we accomplished it.
Did you do more work on it with respect to lyrics? How much did it change the song itself from the demo?
On American Idol, I tended to interpret things vocally, there's a lot of ad-libbing and stuff going on. It was a simple melody before, and we made it a lot more in your face and over the top.
What about "Music Again," the song Justin Hawkins from the Darkness contributed?
It has a classic rock riff to it that I thought was so sexy. Another band that was a major reference was Queen. You hear that influence in a couple different songs, and the chorus of that song, I wanted the harmonies to sound like Queen, I wanted it to be really full. Also, bands like Sweet used to do that with their vocals, glam bands. I just wanted to show people I had a sense of humor with this shit. It's fun, it's supposed to be kind of campy.
Download
Time for Miracles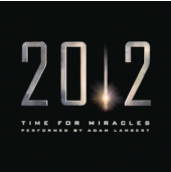 Now!