"Broken Open" is one of the album's big ballads. Can you talk about the record's slower songs?
There's three songs that are really emotional, a little bit slower, softer. One of them is a song that Muse wrote, "Soaked." That opens up with a real soft vocal, it's very tender, the lyrics are very vulnerable, then it goes into a soaring ballad-type feel. That was another example — we got the song from Muse, and I was shitting myself, I couldn't believe it, I thought, "This is incredible, I can't believe they're giving me a song." I'm a huge fan, and it, too, like the rest of the three that I'm talking about, have this real retro feel to it, melodically and even in the style of the production, very Seventies, at times very Sixties, almost like a Shirley Bassey song mixed with a Queen record. "Broken Open" you could put it in the same category as a downtempo Goldfrapp song or even like Radiohead, there's shades of that in there, very electronic but mellow, very ethereal. The lyrics are basically encouraging someone to feel safe in being vulnerable. "Lay here, it's safe here, I'll let you be broken open." It's about that moment where someone really opens up emotionally to you. I just wrote that from some experiences that I've had with certain people in my life, and I hope that it comes across that way.
The songs you write on your own, do you tend to gravitate toward ballads or sadder songs?
I like to write both, I just like to write something that means something. Even "Strut," it's not incredibly hooky, but it's a self-empowerment thing. Strut it out, work your shit, and feel good about yourself and let it all hang out, sooner or later you're going to find love and be happy in your life. So it's fun and it's lighthearted, but it definitely has some weight to it, as far as what it's trying to say. There's another one called "Aftermath" which is probably the most Idol-esque type song on the album. The cool thing is that the lyrics are basically about dealing with your demons. I think there's a universal message in it. It might be about coming out, it might be about self-acceptance, taking the chance of keeping it real and doing what you feel in your heart you have to do, even though it's scary, even though people might not like it. It might be about going to AA. Any sort of traumatic life moment, and in the aftermath of it, of making that decision and dealing with whatever it is you're dealing with, you'll find solace in it. It's another kind of empowerment-type anthem.
People criticized your album cover for its theatrical camp, but you'd argue that's actually where a lot of pop music is heading, correct?
I think that especially right now in the pop scene, theatricality is definitely back. Look at artists like Katy Perry and Lady Gaga, for example, two very kitschy, tongue in cheek artists. Even people like Rihanna, it's very theatrical, it's very dramatic, it's very fashion. All that's happening, and people like Madonna have been doing it for years, and Michael Jackson was the master of it. I just think that people want that again. I was fortunate that I got picked for Idol and people liked it, because that was the kind of music I wanted to do, add more presentation to it, a little more showmanship, not just about the voice.
When was the first time you hit one of those crazy notes and realized you could do it?
One of the real high crazy ones? That was in my twenties, I couldn't do it when I was a teenager.
Was it a process of training and training until it came naturally?
I kind of rejected voice lessons, in a way, I stopped taking voice lessons when I was 20, and I found my voice after that, when I wasn't being told what to do. I wasn't worrying about singing correctly. When you take voice lessons, you get kind of programmed to sing correctly, and when I stopped singing correctly, I had a cooler sound, I think.
When you were auditioning the guys for your band, what was the vibe you were looking for?
The guitar player is somebody I've been writing with and I've known for years, actually, Monte Pittman. I had a band together for a little while here in L.A., a short-lived band, and we had written songs together and we're going to keep writing songs together. I told him a long time ago, "You're going to be in my band." There's a loyalty there, and we have a working relationship that's really great. He's been playing with Madonna for years, he's great. The drummer has a really good energy, and he's an Aquarius like me. I get kind of dorky about the astrology, I hate to admit it.
Have you gotten any new tattoos recently?
No. I thought about it. I need to find something that I want first. I'm not sure what else I want to put on my body, but I'd like to.
Download
Time for Miracles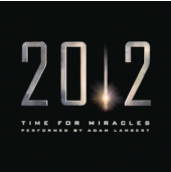 Now!