With the release of his debut album, For Your Entertainment, slated for next week, Adam Lambert is everywhere these days. But one place he hasn't been before is on the cover of Out magazine, the country's leading gay publication. Wearing a tuxedo and a quizzical look, Lambert posed for the "Out 100" issue alongside comedian Wanda Sykes, gay icon Cyndi Lauper, former Army lieutenant and "don't ask, don't tell" opponent Daniel Choi, and "Chicago" director Rob Marshall.
One misconception Lambert dealt with early in the interview was the suspicion from some gay fans that he dropped not-so-subtle, winking hints about his sexuality on "American Idol" before officially coming out of the closet after the program ended.
"There was never any deliberate, like, 'I'm going to hint now...' because I was never in the closet," he said. "The funny thing about dealing with all that was ... [Long pause.] When those pictures came out online, I got freaked out. I was like, 'Great, that's gonna f--- things up.' 'Cause I just figured, you know, this is a national television program and people are conservative in our country, aside from L.A. and New York and a couple of other places."
Lambert said he decided early on that he was not going to make his sexuality a factor on the show, because to him it was about entertaining the audience. But he knew that some fans might be upset by his decision.
"It's a hard thing that everybody's gonna have their opinion about," he said. "Some people in the gay community might look at it like, 'You really should've owned that. You didn't hide it, but you didn't admit it and that's weak.' My whole point is, I'm not trying to lead the f---ing way for the civil-rights movement that we're in right now. I just happen to be a gay man — and I'm not ashamed of that at all."
Lambert lauded the Fox publicity team for how they handled the leak of pictures of him making out with an ex-boyfriend and explained that he told the show's spokesperson he was not ashamed of the photos and didn't feel like he had to deny (or confirm) anything.
" 'I don't want to seem like I'm ashamed of it. Because that's not me,' " he said he told her. " 'That's just not how I am. But at the same time, I really want this opportunity and I want to stay on the show as long as possible. So, I kinda have to come up with a compromise.' And [the publicist] was like, 'Well, is it a big deal to you?' And I'm like, 'No.' And she's like, 'Well, then let's not make a big deal out of it.' And that's what we did. ... And I'm glad that I handled it that way, because I think that had I immediately said the words and labeled myself — you know, said 'I am gay' — I think that it would've been more about that, initially, than anything else."
Among other topics, Lambert discussed his shock at finding that many of his fans are not feeling his collaborator and kindred spirit Lady Gaga: "A lot of my core fans — people that went to the 'Idol' concerts, and I glance at the messages boards once in a while — there is a surprising amount of them that don't like her."
He also discussed how his desire to just stay on "American Idol" from week to week drove him to adopt a chameleon-like persona.
"This week I'm not going to have any rocker style. I'm going to do Motown. I'm not going to wear any makeup, and I'm going to do my cleaned-up classic retro look," he explained of his strategy. "And people were like, 'Wow!' And I'm like, 'To me it's not really that different. I'm just wearing a suit. I just brushed my hair.' " He was surprised when his efforts to change it up each week were met with support from the show's producers, who allowed him to be himself, realizing that the chatter was good for ratings.
He also talked about how the goofy Ford videos the "Idol" contestants dreaded were actually good practice for when he filmed his "Time for Miracles" clip, what kind of boys he's into and the loss of anonymity that comes with suddenly being a famous pop star.
Lambert admitted that the tremendous pressure he feels to succeed has already gotten to him a couple of times, but said his decade-plus of experience in musical theater and living in Los Angeles has perhaps made him more prepared than other contestants. "When you're in the city of entertainment, and you open your eyes and you meet people and you hear stories and you have friends that have been through this and that, going onto a show like 'Idol,' you get it, going into it," he said.
In response to a question about Lambert's handlers telling the magazine not to make their client seem "too gay," the singer said there is something to that idea in crafting his image. "I think the whole magic of this moment is that I'm not alienating anybody," he said. "I'm not trying to anyway. I want as many people to feel like they can like the music. I don't want to edit myself to the point where I feel like I don't have integrity. ... It's almost like being a political figure. It's like a balancing act."
Download
Time for Miracles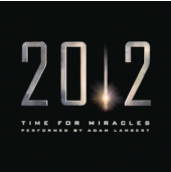 Now!