Fans are taken behind the making of Allison Iraheta's music video supporting her single "Friday I'll Be Over U". She is seen rocking a leather jacket and jamming with her band. Also, there is a capture of the red-headed girl performing the track on a red lip-shaped couch.
"Friday I'll Be Over U" is the lead single taken from Allison's debut studio album "Just Like You" which is going to hit the stores across United States on December 1. It has been re-recorded in Spanish called "El Viernes Te Olvido Yo ".
Most recently, "American Idol" host Ryan Seacrest announced that he will bring in Allison Iraheta together with her Idol pals Kris Allen and Adam Lambert for a reunion gig. The city with the most demands on Ryan's blog will get their visit.
Download
Time for Miracles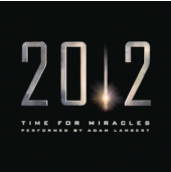 Now!