Adam Lambert's "For Your Entertainment" may not hit stores until November 23, but now we have a chance to listen to samples of every song. Thanks to Amazon UK, there are brief 30-second clips of every song available for our listening pleasure.
As expected, the album contains a multitude of different genres while simultaneously tests Adam's vocal range. Some songs, such as "Sure Fire Winners" and "Music Again," definitely have a sound reminiscent of Queen and other decades-old rock anthem bands. Others, such as "If I Had You" and the Lady Gaga-penned "Fever," are more pop-based and contain driving beats and catchy melodies (not to mention a little bit of auto-tune). There are also a few slow ballads in there, such as "Broken Open" and "Soaked."
Overall, the album looks to please Adam's ever-expanding fanbase as he continues to build momentum over the coming weeks (he is currently ranked #9 on Amazon, far ahead of fellow "Idol" contestants Kris Allen and Allison Iraheta). What do you think of some of the song samples? Let me know your thoughts with a comment below and as always stay tuned for more "American Idol" news.
Download
Time for Miracles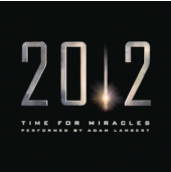 Now! Or pre-order the full For Your Entertainment album to the right.