As Adam Lambert plays the role, a rock star doesn't have to be an angry punk, a brooding post-grunge puritan or a hair-metal style macho dude in a dress. These approaches all have their purpose, but Lambert projects something different: outrageousness that's totally at peace with itself.
He does this by connecting countercultural ideas -- values he learned as a kid touring Germany in a production of "Hair," the musical that first brought rock's spirit to Broadway -- with a trouper's sense of artistic performance as work, which takes brains and a certain sharpness as well as talent.
"His No. 1 challenge, which I think he'll pass, is stay true to himself and to roll with the punches as they come," said Rob Cavallo, who has worked with artists from Green Day to the Dave Matthews Band and produced four tracks on "For Your Entertainment." "He's going to have successes. He might have people against him. Which is exactly what happened to Elvis, the Beatles, to Prince. . . . There will be controversy, and there will be opinions. If he stays true to himself he will be one of those great artists to watch over the years."
Lambert readily admits a huge debt to David Bowie, whom he describes as "my favorite," and other glam and classic rockers such as Mick Jagger and Marc Bolan of T. Rex. (More surprisingly, he repeatedly cites both Prince and Michael Jackson.) Lambert's efforts to succeed as a rocker will hinge on his ability to tap into the legacy Bowie and those others represent. His "emo" side, linking him to bands like Fall Out Boy, also helps. But it's hard to know if the rock world -- and rock radio, in particular -- will embrace him.
"When bands like Fall Out Boy and All American Rejects first came out, they got airplay on modern-rock stations," noted Leslie Fram, a rock radio veteran who's program director of New York's 101.9 RXP FM and co-host of its morning show with Matt Pinfield. "But when they crossed over to the Top 40, it was the nail in the coffin. They went over to the pop side, image-wise, and modern-rock radio wanted nothing to do with them."
Lambert's trying something even these bands didn't attempt -- to succeed in both the rock and pop camps at once. He loves his glam, but he admits that in terms of today's stars, he has more in common with Beyoncé than with Chris Daughtry.
"People look at me and immediately say, 'Oh, he's doing the musical-theater thing,' " he said. "But if you look at most female pop stars right now, how are they any less theater? Beyoncé is doing 'Single Ladies' with two girls in character shoes and leotards, doing Fosse choreography from 'Sweet Charity,' and 'West Side Story.' "
Lambert obviously learned some of his moves from his youth in the theater, but he's also always credited the friends he made through Burning Man, the annual festival of makeshift art that turns a patch of the Nevada desert into its own magic kingdom. If "Hair" introduced him to the language of the counterculture, Burning Man showed him how people spoke it every day.
"There's a community here in L.A. that's part of Burning Man," said Lambert, a San Diego native who moved to Hollywood after high school. "It's an underground community, and when I found out about it I was so much more excited about living here. The people I was meeting were a lot more interesting, more original. And happy, just happy.
"Los Angeles can be a really sad city. If you go to the clubs you meet a bunch of people trying to be actors and not fulfilling their dreams, and they're bitter and sad. . . . But in [the Burning Man] community no one cares. You're living your life, and you feel fabulous about it, and you might be doing it on $5 a day."
Lambert is certainly enjoying his bigger budget now -- especially the "expensive, beautiful and weird" clothes -- but he seems to have preserved the perspective he gained hanging out with serious bohemians.
He does know how to play the music industry game. He raided the executive suites for collaborators on "For Your Entertainment": Its songwriters include ubiquitous hit-makers Max Martin, Ryan Tedder, Linda Perry, Dr. Luke and "Idol" judge Kara DioGuardi, and his producers include big names like RedOne and Rob Cavallo.
"Adam is unusually confident in my mind but not in a pretentious way," Tedder said in an e-mail. "He has the confidence of a guy that absolutely knows who he is to the core, both musically and personally. He spent four days in Denver working with me and was as laid back and comfortable in my studio as he was being swarmed by fans when we went to dinner. For a first-time artist, he definitely had more control creatively than I've ever seen a new act given, but Adam is the kind of person that would rather not put out anything than put out something that was less than 100% his vision."
Pinfield, Fram's co-host on WRXP and a defining force within alternative rock as an MTV host during the 1990s, thinks his eclectic approach could work for Lambert. He might have a tough time on rock radio, Pinfield said, but the singer's fans might not care.
"There was a different world before, with the rock 'n' roll thing," he said. "Today, the same kids who love the Beatles and the Stones and Zeppelin could love Radiohead, and Adam Lambert. Young people today are not as worried about being genre specific."
In the studio, Lambert enlisted hot ingénues Pink and Lady Gaga as writers while securing some of that fabled rock cred by covering material by Justin Hawkins, formerly of English glam revivalists the Darkness, and Muse, a band that he loves.
"I listen to crazy, robust rock music where they sing their faces off, and soul music, which can be similar," Lambert said. "But I also listen to a lot of dance music. I love that style. I was a Paula Abdul fan, a Michael Jackson fan, a Madonna fan. When Christina Aguilera came out when I was in high school, that was a great example of someone taking the pop-dance feel but who could really sing. Pop stars have done it; it's just not a lot of guys have done it. Maybe it's a question of masculine persona."
Download
Time for Miracles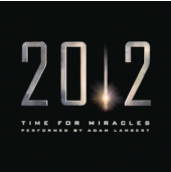 Now!