As an openly gay man during a time when that identity has become more acceptable (in the media, at least), Adam Lambert starts with a surprising advantage over apparently straight rockers: He's expected to be in touch with his feminine side.
"I'm the gay guy pushing the straight boundaries," he said. "But that's what I did on the show! Like when I did 'Ring of Fire,' I went full-on with eye makeup, a really weird outfit and leather. The very next week, I did 'Tracks of My Tears' in a suit, looking really hetero. I was playing with my image. It wasn't that I was trying to be straight."
His playful pan-sexuality and flamboyant swagger, once qualities common to hard rockers, are now owned by the likes of Pink and Lady Gaga. Lambert understands that. He also cites Justin Timberlake as a kindred spirit, if not musically, then in terms of showmanship and fluid style.
"I think the next generation coming up is a little bit more open-minded," he said. "More accepting, more colorful, more multi-genre, multiethnic, multi-sexuality, which is more utopian. Or I think so. I hope so."
What separates Lambert from much of pop's young elite is his voice, an instrument whose timbre, power and range recalls those titans of hard rock.
"He can sing almost any note on a guitar from the lowest to highest," said Cavallo, who thinks Lambert's sense of style and soul, combined with that range, puts him in the realm of the greats. "And if you're in the studio with him and say, 'Can we get a little more dirty?' he'll go 'Waaaaah!' And then the microphone is melted and the speakers have exploded."
Lambert studied opera as a teenager, then turned away from lessons for a while. "I started rejecting the proper way to sing and I started singing," he said. "I was listening to more and more rock music and wondering, wow, how does that person do that with their voice?"
He discovered there was no name for what rock singers do. Lambert's singing, like his taste and his personal style, put him beyond a boundary.
"I met with [a vocal coach] over the summer and talked to him about it, and the funny thing was, you know when I do those little, crazy, screamy notes? He's like, 'We don't really have a way to teach that. It kind of goes outside of our box.' Those notes that sound sort of like rock-scream, no one ever taught me to do. I sort of had to teach myself. You just do it. It's just a sound you make."
Download
Time for Miracles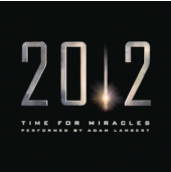 Now!