From Jim Cantiello, MTV Newsroom
It's been a great week to be an "American Idol" fan.
Kris Allen
rocked "The Late Show with David Letterman" in Christmas sweaters on Wednesday (December 16),
Allison Iraheta
ferociously tore through her single on "Jimmy Kimmel Live!" last night and Adam Lambert appeared on nearly every TV show on the air. (I spied Gokey performing his new country material in North Carolina, too.)
Just last Friday (December 11), I caught up with Kris, Adam and Allison (also known as Kradison) before they hit the stage at Madison Square Garden for Z-100's Jingle Ball concert. (Kris was the only
Season 8
"Idol" alum performing that night; the other two were tapped to show off their speaking voices by introducing other acts.) It was a fun gig, what with all of the artists in especially jovial moods, which means our interviews were especially conversational and loose. You know what that leads to: outtakes!
Enjoy some of the highlights from my Adam Lambert interview! Initially, we were told that Adam wouldn't be doing any press at the event. Lucky for us, it turns out that it was all a big misunderstanding. During our brief chat, Lambert and I gabbed about how excited he was to meet
Taylor Swift
, the drama surrounding the upcoming Seacrest-sponsored "Rock My Town" concert contest (On which city he's rooting for: "I really don't have a preference, to be honest with you") and his love of the Miike Snow album (even if he engaged in a little "oh no you didn't" over the band's pronunciation with my camera dude, Steven Roberts). It also wouldn't be a Jim Cantiello "Idol"-related outtake reel without a horrifically awkward, accidental come-on towards a contestant. I wanted a hug from Lambert. Can you blame me? Dude looks so dang huggable!
Order "For Your Entertainment" Now! from:
iTunes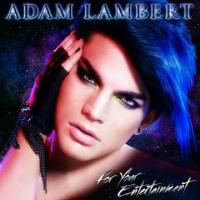 Amazon