When Adam Lambert rode his media roller coaster into San Diego yesterday, the local "American Idol" newsmaker arrived with a smile on his face and no chips on his shoulders.
In the Gaslamp Quarter to donate a costume to the Hard Rock Hotel's memorabilia collection, clad in black and sporting a major ring on each hand, the Mt. Carmel High graduate said a happy goodbye to his Hard Rock donation, which featured the leather vest, jeans and homemade platform boots he wore during his performance with KISS in the "American Idol" finale in May.
"It's obviously quite an honor," Lambert said of joining a collection that includes items from Madonna, Jimi Hendrix and The Beatles. "I'm a new kid on the block, so I'm just excited to be asked."
Lambert also talked of his hopes for a spring tour, and his plans to visit his father, Eber, while he was in town. Which left just enough time to visit with the 200 or so fans who came bearing cameras and unconditional love.
Order "For Your Entertainment" Now! from:
iTunes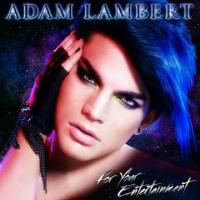 Amazon