Adam Lambert
sparked quite the controversy when he kissed a man on stage at the American Music Awards last month, but it turns out that the American Idol runner up actually learned how to kiss from a girl.
Friday Night at Z100's Jingle Ball at Madison Square Garden Adam Lambert told all about how he wasn't always into boys.
"When I was 14 yes, I had a girlfriend. She was 18 and her name was BJ and she was from Compton. Can you imagine this little red head kid and a big black girl? She taught me how to make out."
But the
American Idol
runner-up also had some words of wisdom for his fans. "Everyone should get out of the mirror. That's not what matters. We are programmed in society to be so hard on ourselves and our appearance."
Still, that doesn't mean that he is immune to being a victim of his own appearance. Backstage, he refused Wonka candy and opted for Five mint gum instead. "I'm on such a diet now." "I want to stay in great shape so no candy for me."
And despite a tough year, Adam's resigned himself to keeping to his 2010 New Year's resolution, which will no doubt help him weather the storm of his AMA controversy. "I want to continue to stay positive and make my music," he said.
Order "For Your Entertainment" Now! from:
iTunes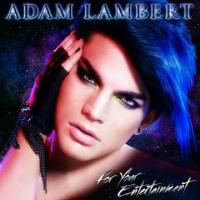 Amazon