When season eight of "
American Idol
" premiered January 13, no one knew who Adam Lambert was or what he'd become. Sure, his first audition — he took on
Queen
's "Bohemian Rhapsody" — raised a few eyebrows, but in the early stages of the show, Lambert was outshined by the likes of Normund Gentle and that chick who wore a bikini.
That all changed with a vamping take on
Michael Jackson
's "Black or White," a decidedly demure version of the
Smokey Robinson
-penned "Tracks of My Tears" and, of course, his now-legendary cover of
Tears for Fears
' "Mad World." Suddenly, improbably, Lambert — the theater kid with the 100-octave voice and the penchant for dangly jewelry — became the "Idol" front-runner.
Of course, we all know how that turned out. Despite his defeat at the hands of
Kris Allen
in the season-eight finale, Lambert was unquestionably the biggest "Idol" star of the year, if not of all time. He graced magazine covers, pundits speculated about his sexuality — he was everywhere you looked. Post-"Idol," well, he just kept rising.
Order "For Your Entertainment" Now! from:
iTunes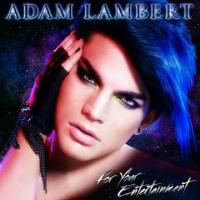 Amazon