With his out-of-this-world vocal range and unique musical style, Adam Lambert's album "For Your Entertainment" debuts at #3 on the Billboard Charts with 198,469 albums sold.
People Magazine proclaimed that "The season 8 runner-up wins the battle that really counts with a confident, I-know-who-I-am display of glam pop-rock." Rolling Stone called For Your Entertainment, "Supercatchy glam rock with an electro-pop edge" and Spin Magazine said "...Lambert's polymorphous vocal skills unite dancefloor strut and hard-rock pomp in a convincing glam package."
Millions of fans watched Lambert's stunning performances on the eighth season of "American Idol" and have since been tuning in to see his spectacular televised performances.
Moving into the holiday season, Adam will be performing "Whataya Want From Me" co-written by P!nk, along with Sweden's Max Martin and Johan Shellback,on upcoming television programs such as The Tonight Show With Conan O'Brien and The Jay Leno Show. Additionally, Adam will be interviewed on Barbara Walter's 10 Most Fascinating People.
Order "For Your Entertainment" Now! from:
iTunes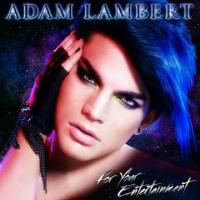 Amazon