Adam Lambert no longer has to worry about his plans for New Year's Eve. After being dropped from "New Year's Rockin' Eve" by ABC thanks to his controversial American Music Awards performance, the "American Idol" runner-up now reportedly has a presence at the GRIDLOCK New Year's Eve event benefiting The Red Cross. The move has been expected for weeks now, but is officially confirmed on Tuesday through a press release.
The event, according to the press release, will take place at Paramount Pictures Studio and will feature Adam performing some of his songs at the stroke of midnight. As for what songs he will sing, that is of course to be decided.
While the GRIDLOCK event may be a step down from national television, it is still proof that the singer has no problem booking appearances. He can be seen next on Wednesday's finale of "
So You Think You Can Dance
" and will then appear on "The Jay Leno Show" next week.
Order "For Your Entertainment" Now! from:
iTunes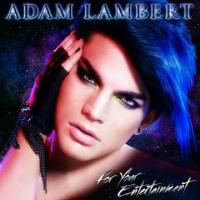 Amazon