Another day seems to mark another high-profile appearance for Adam Lambert these days, and the "American Idol" runner-up wasted no time addressing some of the latest rumors surrounding him on "The Jay Leno Show" Monday night.
First of all, Adam was quick to dispel the notion that he was starting up his own makeup line. While he definitely didn't rule out doing something of the sort in the future: "I haven't started a makeup line. I might, but I haven't yet," Adam said, it just wasn't something he was focused on doing at the time being (even if Leno joked that he'd be interested in buying some).
After that, Lambert immediately shut down any whisperings of a supposed feud between himself and his father over his controversial same-sex kiss at the American Music Awards. He admitted that he talked to his father about the performance, but the conversation was a brief one as Adam claimed he didn't feel like he had to apologize for the incident. The two are in fact still on speaking terms, and the disagreement was just a blip on the radar.
Of course, Adam couldn't go on without performing; he stuck to his guns and sang "Whataya Want From Me," again deciding to ignore the song that brought
Order "For Your Entertainment" Now! from:
iTunes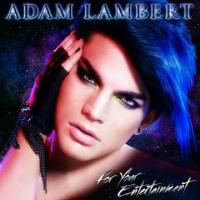 Amazon